About AKWL
An Association, registered under Societies Act 1860. A charitable (educational) organization for dissemination of knowledge, not for profit. The association will bring together like-minded knowledgeable professionals and promote networking among such workers for knowledge stimulation.
Read more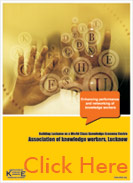 Synergy with other Organization to achieve Objectives
AKWL is actively involved with Indian Industries Association (IIA) and NASSCOM for organizing joint venture programs and other stake holders. AKWL is facilitating development of knowledge based industries e.g. ICT, Biotech etc. by continious interaction with government/ PSU etc. It includes development of SEZ etc.